Now and then we all have those stubborn stains that won't come off with just one scrub, the hard water stains in the bathroom that can't seem to go away, dust covering your baseboard, marks on the walls maybe the kids decided to show their creative artistic skills on the wall. No need to get stressed over that or to spend hours trying to clean off the dirt and the grimes when you have a magic eraser. 13 Amazing magic eraser hacks that will completely change your life.
(This post may contain affiliate links. Please read my full disclaimer for more information. As an Amazon Associate I earn from qualifying purchases)
A magic eraser will clean any type of dirt around the house. It's one of the most versatile tool that does wonders when it comes to cleaning. The best part is that they are so budget-friendly. There is no need of getting an expensive brand of magic erasers because the generic ones work just fine. I recommend these magic erasers because they are super thick which means they take longer to break down.
The reason why the magic erasers works so well is that it's made of a melamine foam which is a highly effective abrasive cleaner that works like super-fine sandpaper. That's why it's able to get loosen all the dirt in those tiny corners and grooves of the object and places being cleaned.
Every time am cleaning the house I always in wear gloves, so if you are like me I highly recommend these cleaning gloves. They are super affordable and long lasting. Mine go for more than 3 months.
Perfect for so many surfaces around the house, from the kitchen to the bathroom to toys and more. These magic eraser hacks will give you more cleaning ideas on how you can clean your house and leave it spotless. Simple hacks that you can use every week.
[shopr collection="magic-eraser-post"]
Please note that magic erasers are abrasive so be extra keen when cleaning. If you ain't sure whether it might cause any damage do spot testing. For example, you should never use a magic eraser to clean your computer screen.
Cleaning the window sills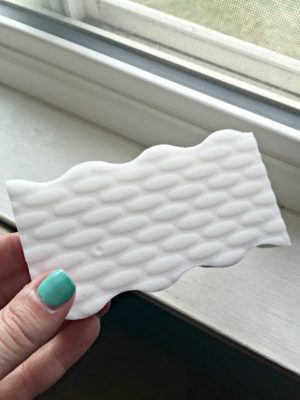 Source Building our story
Window sills are one of those places that are easily forgotten. Most people don't bother because we just assume it's hard to clean. With time so much dirt build-up and becomes disgusting. The dirt can accumulate to a point where sliding the windows becomes an issue. Use a damp magic eraser to get rid of dirt stuck on the window sills.
Removes marks on the wall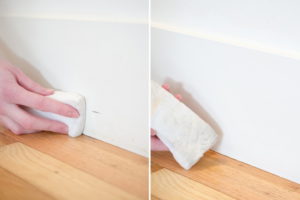 You will be glad to know that you no longer have to spend hours on the weekend scrubbing your walls trying to clean the marks. If you have kids, pencil and crayon marks on the wall are unavoidable because sometimes they want to express their artistic skills on the wall or if you have a white or any other off white wall paint scuff marks are daily things. Worry not, you can easily clean them by wetting your magic eraser and rubbing off the marks.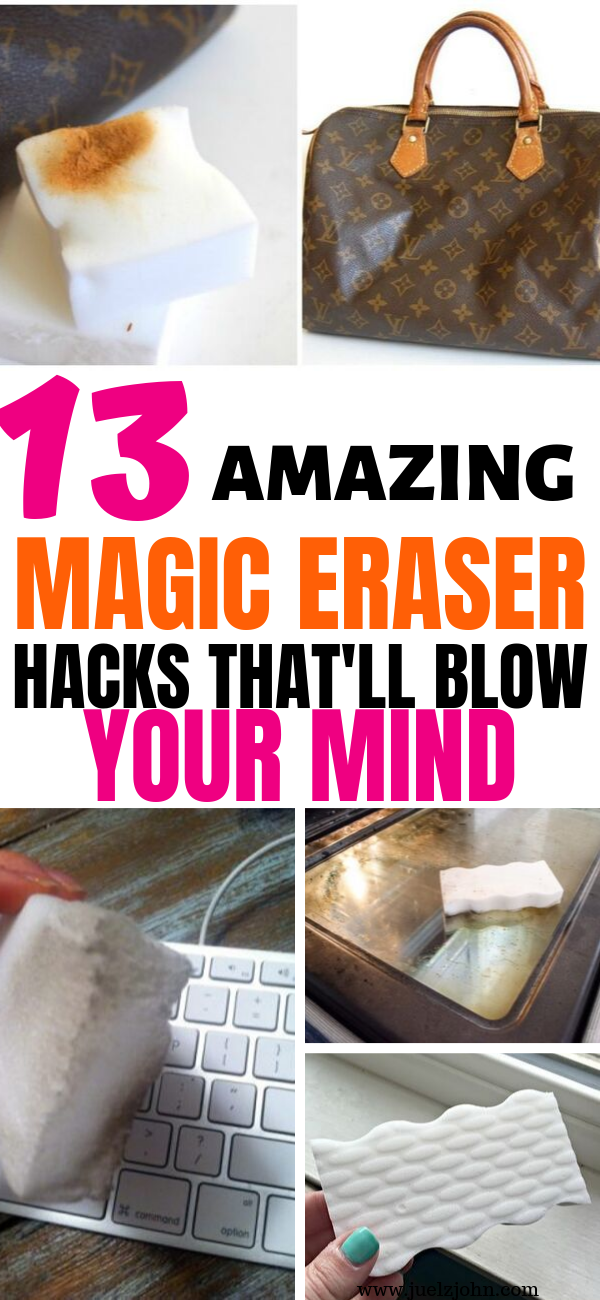 Cleaning the iron box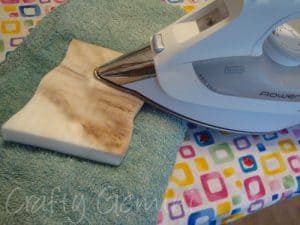 Source Crafty Gemini
Over time you will notice that the iron accumulates a lot of dirt and grime which makes it impossible to use as it can damage your clothes. You can easily remove the build-up using a wet magic eraser. Simply heat the iron and run the sole plate over the eraser quickly and all the dirt and grime will come off.
Magic Eraser Hacks: Microwave
Cleaning the microwave can be a bit challenging and especially if there is dried food. Magic erasers will do a phenomenal job at getting the inside of your microwave looking like new again.
Cleaning the shoes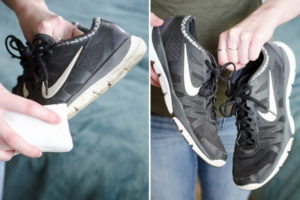 Source here
One of the best magic eraser hacks that will save you so much time. It works so wonderfully for my sneakers. The rubber bottom part of the sneakers becomes dirty so fast just one wear which can make the overall appearance of the shoes not so presentable. No one want to intentionally leave the house with dirty shoes, right?
A magic eraser will restore that old shine for you. Use a damp magic eraser and just scrub away the dirt.
Gets rid of hard water stains off your faucets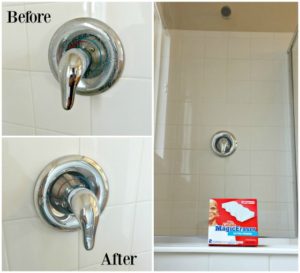 Source Here
Hard water can make your faucets dull and dingy and regardless of how much you try to scrub them with a cloth the stains don't budge. Magic erasers will do wonders to your faucets. They will shine like new again.
Cleaning dirty oven glass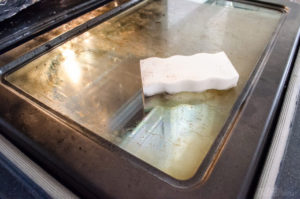 Source Polished Habitat
Apart from the window sill, dirty oven glass is another place that no one wants to clean because it can be a headache trying to remove all the stubborn dirt and grease. It ends up being ignored. The inside of the oven can be the hardest part to clean in your whole house. You can now clean the dirt and grease using a magic eraser and no harmful chemicals are used.
Helps to remove permanent marker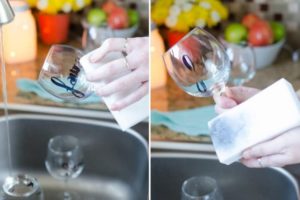 Source Krazy coupon lady
You can remove any permanent marker using a magic eraser. On items like mugs, glasses. Simply wet it the eraser and scrub off. These hacks will come in handy when doing a DIY project like a mud project and you accidentally mess up. For example, if you had a party and you now want to remove the permanent markers from your glasses.
Remove labels and stickers from glass bottles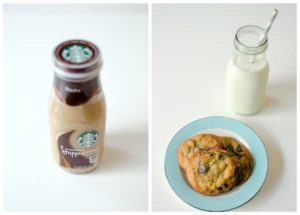 Source a side of sweet
Do you have stubborn stickers and labels that won't budge? You can easily remove those sticky adhesives off your glass bottles using a magic eraser. This hack allows you to reuse your glass bottles.
Some of the stickers will easily come out on their own but not completely and some will leave a sticky residue behind. The magic eraser removes the stickers so perfectly without leaving any residues. All you have to do is to scrub off the label carefully.
Removes dirt from the laptop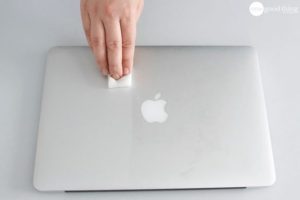 Source one good thing
This is a hack that comes so handy for me. Laptops tend to accumulate dirt and grime with time but the best part is that you don't have to spend a fortune taking them to be cleaned. A magic eraser will do the trick. It cleans all the dirt and the grime from the laptop leaving it looking new again.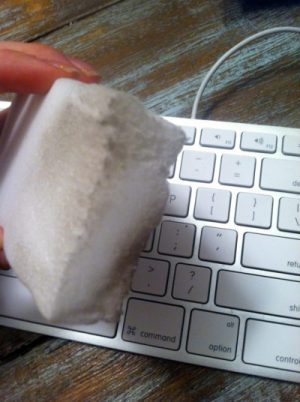 This hack works perfectly for the keyboards too because the magic eraser will get into those hard-to-reach places between the keys. Which is better than any cloth you could use.
Polishes silverware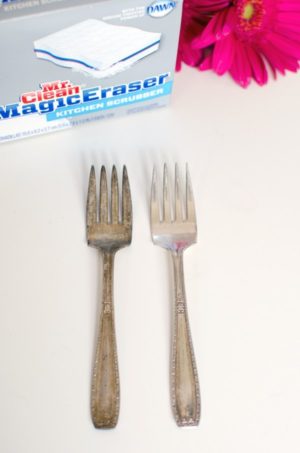 Source A side of sweet
This hack is so genius. It will leave your utensils looking new. Naturally over time silverware gets tarnish and loses the shine but the magic eraser will do its trick of bringing the shine back. The best part is that it polishes them without using any chemicals and no hard scrubbing required.
Cleans leather perfectly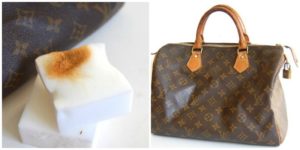 Source Lollipuff
Have the kids written on your leather couches? Worry not, all you need is a wet magic eraser to wipe of any marks. It also cleans on items like handbags, jackets, and shoes. Leather tends to get scuffs and build up from wear but the eraser will help restore the original sheen.
Get rid of red stains on plastic containers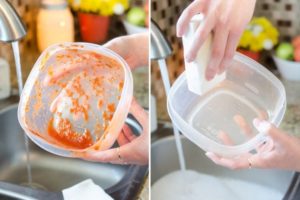 Source here
A magic eraser works wonders in cleaning off those food stains that can leave the dishes looking discolored and disgusting. Getting rid of those red and orange stains have never been easy. It will save you from lots of ruined dishes and bowls.
[shopr collection="magic-eraser-post"]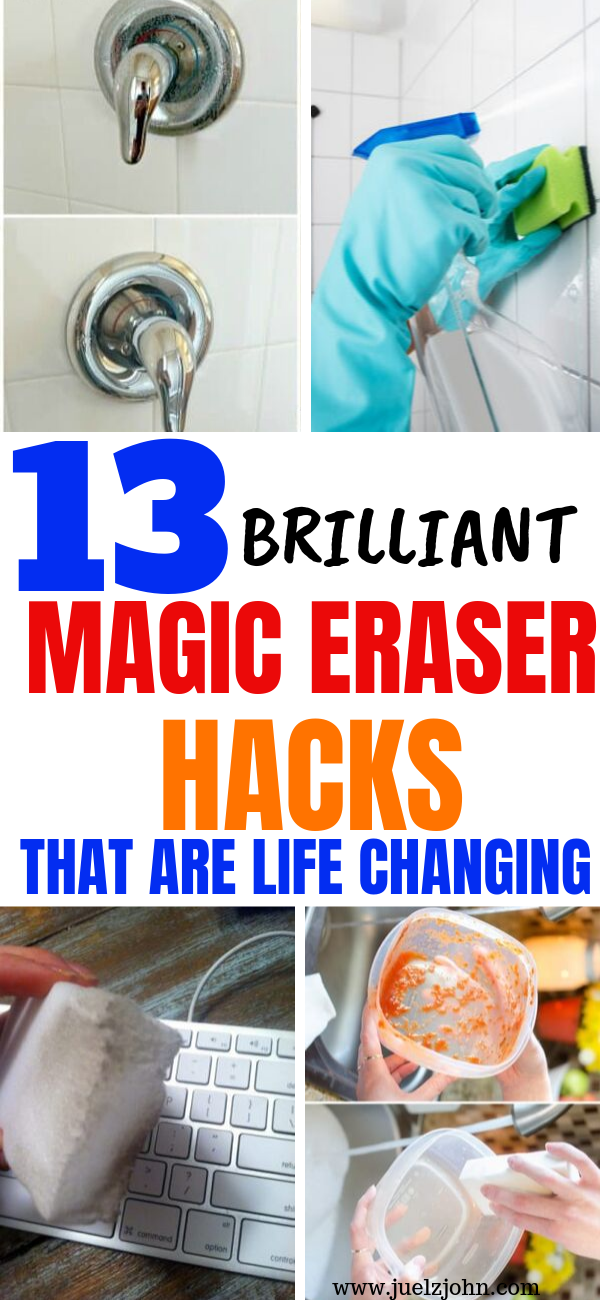 Hope you have enjoyed this post and found genius magic eraser hacks you can adopt into your cleaning habits. You can be sure that they will make your life less stressful and cleaning more enjoyable and faster. These magic eraser hacks will change your life.
You might also like:
15 Genius cleaning hacks you'll wish you had known sooner